April Bourbon Palate Training & Dinner at Addie's at the Woodford Inn
April 19, 2018 @ 6:00 pm

-

8:00 pm

$50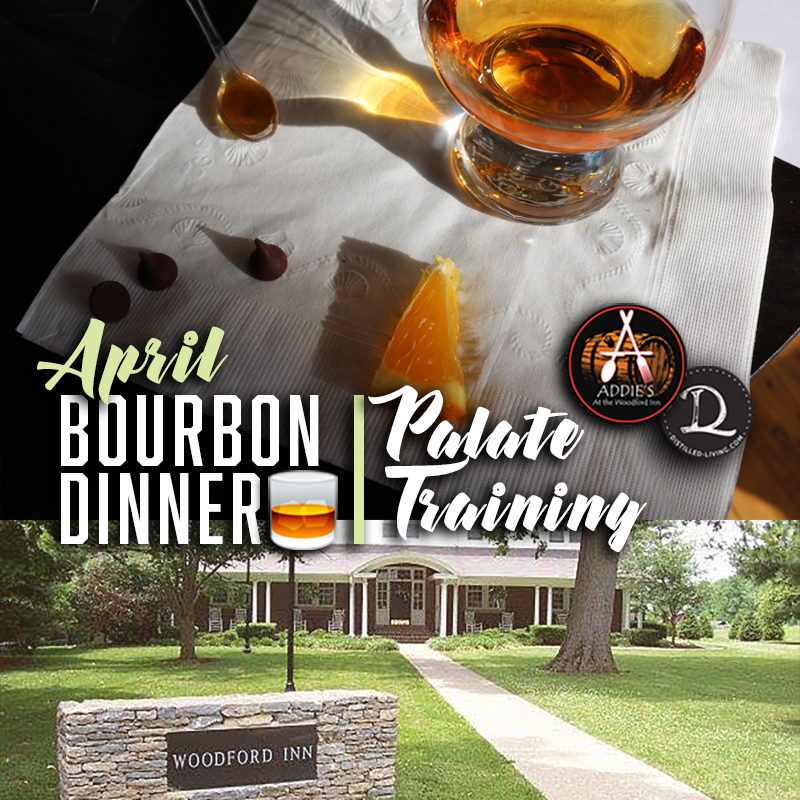 By popular demand! Learn to detect the nuanced flavors of bourbon like a professional taster. By performing proper nosing and tasting techniques, combined with culinary palate training and food pairings, you'll quickly be able to isolate the complex flavors within your favorite bourbons. Your go-to bourbons will never taste the same again!
BOURBONS & MENU
Small Plate Dinner – each of the five bourbons will be paired with a small plate item strongly flavored to the bourbon's matching food item.
• Knob Creek – Toasted Nuts – Biscuit cake iced with toasted nut puree. Drizzled with brown butter, dusted with a salted caramel and garnished with toasted nuts.
• Four Roses Small Batch – dried cranberries – Cranberry brie en croute on top of a thin slab of bacon with crisp greens tossed in cranberry-dijon vinaigarette.
• Russell's Reserve – candied ginger – Candied ginger stir fry and tempura chicken on top of sushi rice and slivers of green onion.
• Woodford Reserve – fresh orange – Marinated shrimp, orange relish, chunks of grilled orange drizzled with chive infused oil.
• Elijah Craig Small Batch – dark chocolate – Dark chocolate mousse with nutmeg, mint and smoked sea salt.

$50 per person plus tax and gratuity. Seating is limited.

Call 859-873-5600 if you have questions or what to order tickets or make your reservation with the eventbrite link: https://www.eventbrite.com/e/bourbon-palate-training-dinner-addies-at-the-woodford-inn-tickets-44174702725
Suggested attire is business casual. If you haven't been to Addie's before, there's plenty of parking!