Bourbon by Brands II: Craft Distilleries • OCT 27 • KY Bourbon School
October 27, 2019 @ 3:00 pm

-

4:30 pm

$35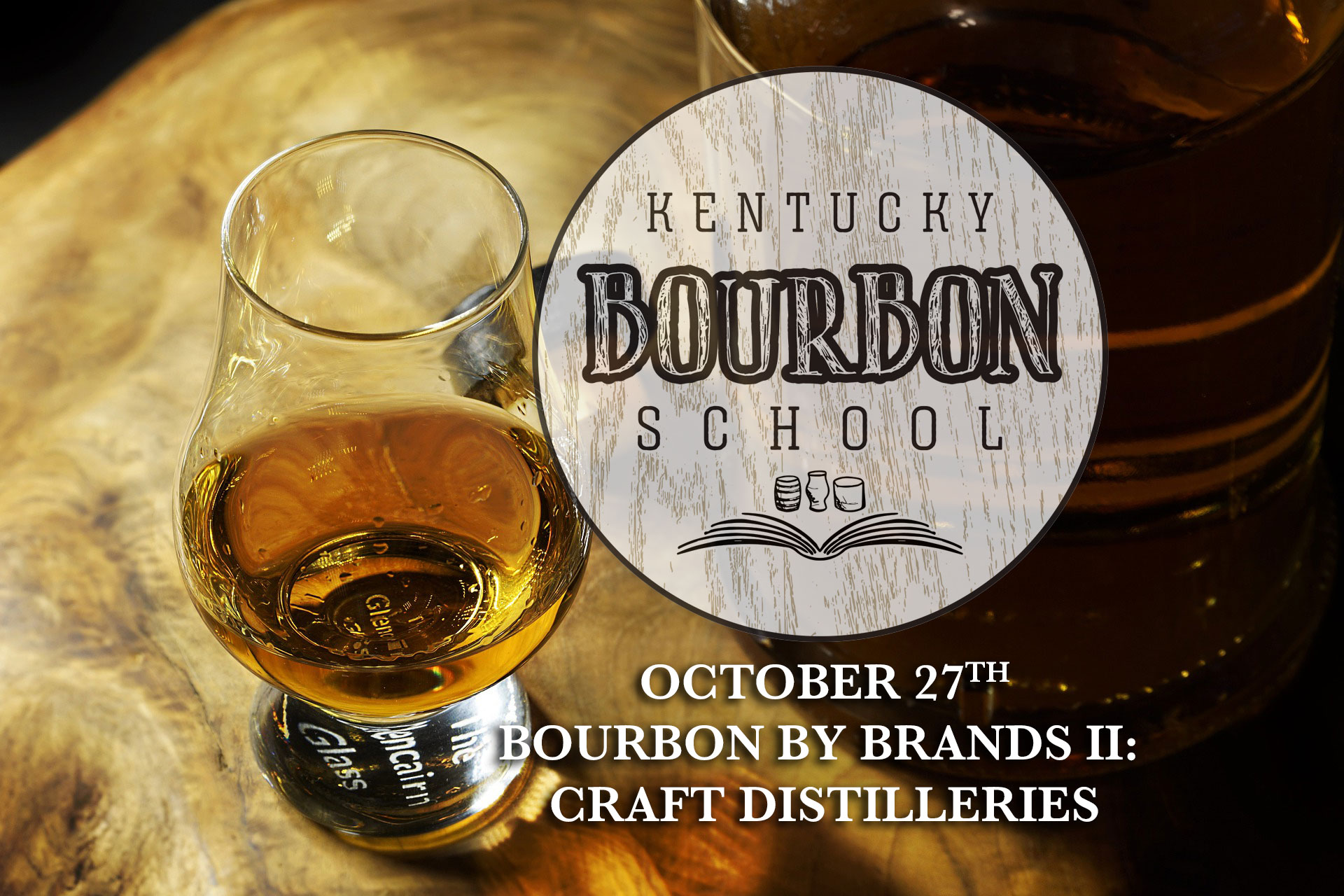 Last month we talked about the big distillers, now let's concentrate on the little ones! For this month, we're exploring the craft distilleries in Kentucky. We're limiting to just the ones that are making their own products, so specific product availability will vary across dates this month.
We'll taste a representative Bourbon from each distillery and dissect the flavor profile to understand the choices the distillers make for grain recipe/mash bill, yeast strain, distillation, barrel char and entry proof and aging.
Distilleries:
• Barrel House Distilling Co. – RockCastle
• Bluegrass Distillers Bourbon
• Glenns Creek Distillery – OCD #5
• Hartfield & Co. Bourbon
• Jeptha Creed – Bloody Butcher's Creed Bourbon
• Kentucky Peerless Distilling Co. – Peerless Rye
• MB Roland Distillery – KSBW
• New Riff – KSBW
• Second Sight Spirits – Oak Eye Bourbon
• Wilderness Trail Bourbon
• Willett – Old Bardstown Bottled-in-Bond
* Pours subject to change!
Tickets are available for:
Wednesday, Oct 9, 6:00-7:30pm
or Sunday, Oct 27, 3:00-4:30pm
This class is part of our year-long "Kentucky Bourbon School" (previously Bourbon University) led by Bourbon-Steward in Residence Tim Knittel of Distilled Living with a new theme offered each month. They will be the 2nd Wednesday and 4th Sunday all year. No need to attend them all – mix and match as you like!
$35 per person, class includes guided bourbon flight and light food.
Dinner reservations at Castle Farm Restaurant available for after the class by calling (859) 256-0322 or visiting https://www.thekentuckycastle.com/eat-drink
https://www.eventbrite.com/e/bourbon-by-brands-ii-craft-distilleries-oct-27-ky-bourbon-school-was-bourbon-university-the-tickets-66808832015