CANCELED / COVID19 RESCHEDULING • Bourbon Sensory Analysis II: Advanced Bourbon Sensory Analysis • Dec 27 • KY Bourbon School at The Kentucky Castle
December 27, 2020 @ 3:00 pm

-

4:30 pm

$35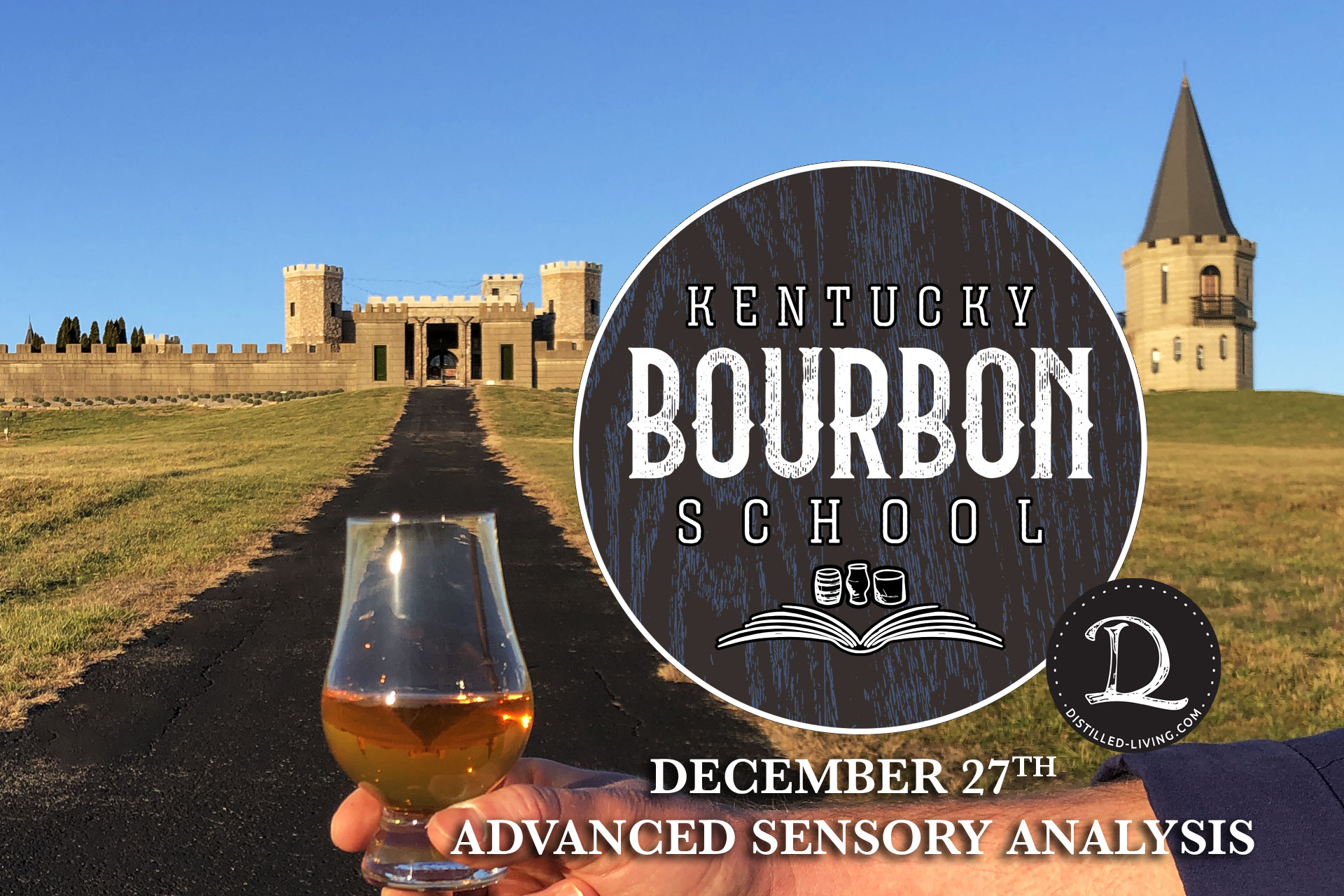 This event will be rescheduled for a later date TBD. Anyone who purchased a ticket will get a refund and additional info via email.
A quality Bourbon can contain over 200 flavors divided into five primary categories:
• Grains
• Tree (wood and nut)
• Sweet
• Spice
• Botanical (primarily fruit and floral)
Like fine wine, it takes palate education and practice to learn to detect the subtle and nuanced aromas and flavors of a complex Bourbon.
We'll explore advanced Bourbon sensory analysis through varying levels of blind tasting,
The Kentucky Castle's Bourbon-Steward-In-Residence (& Bourbon industry insider) Tim Knittel will guide you through:
• Aroma, mouthfeel, front palate, mid-palate and finish
• Aromatic "taste" and taste bud vs olfactory sensation
• Orthonasal vs retronasal breathing and the post-swallowing volatile congeners release
• Use of aromatic aids in Bourbon flavor identification
• Resetting (baselining) sensory perception
• Fault identification in Bourbon
First, you'll develop your aroma (palate) memory through nosing selected extracts and isolates. Then, you'll use those aromas to blind-identify 5 Bourbons using professional tasting notes and place them in their correct categories:
• wheated Bourbon,
• traditional/low rye Bourbon,
• American rye whiskey,
• fruit-floral forward Bourbon and finished Bourbon.
The bourbon pour list for this class is a secret!
Tickets are available for:
Wednesday, Dec 9 at 6:00 pm – 7:30 pm
or Sunday, Dec 27 at 3:00 pm – 4:30 pm
This class is part of our year-long "Kentucky Bourbon School" led by Bourbon-Steward in Residence Tim Knittel and Executive Bourbon Steward Aften Locken of Distilled Living with a new theme offered each month. No need to attend them all – mix and match as you like!
$35 per person, class includes guided Bourbon flight and light food.
Dinner reservations at Castle Farm Restaurant available for after the class by calling (859) 256-0322 or visiting https://www.thekentuckycastle.com/eat-drink.
https://www.eventbrite.com/e/bourbon-sensory-analysis-ii-advanced-bourbon-sensory-analysis-dec-27-ky-bourbon-school-the-kentucky-tickets-84554100591