May 23 • Bourbon Production II • Bourbon University @ The Kentucky Castle
May 23, 2018 @ 6:00 pm

-

7:30 pm

$35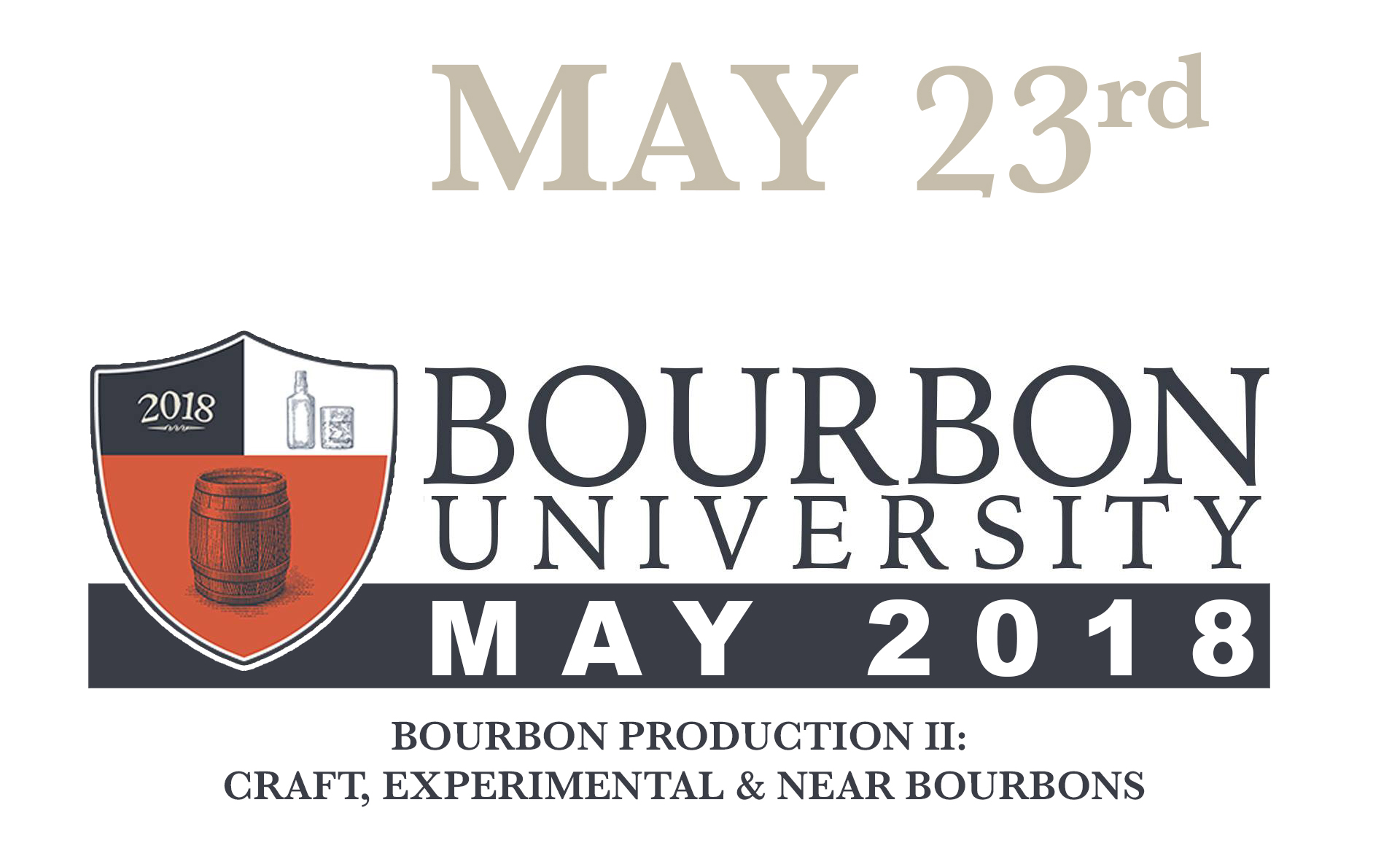 [May Bourbon University] Bourbon Production II:
Craft, Experimental & Near Bourbons
Bourbon has traditionally (in modern times) been made from:
• Limestone water,
• Yellow dent corn plus malted barley, wheat and/or rye grains,
• Sour mash fermentation,
• Column still distillation, and
• Aging in a new, charred oak barrel.
But the new generation of craft distillers is expanding and experimenting with how Bourbon can be made. Using variants like specially grown heirloom corn, unusual grain bills, sweet mash fermentation, pot still distillation and unusual maturation techniques.

Bourbons (and near Bourbons) probably* will include:
• Mellow Corn by Heaven Hill – an American corn whiskey (not Bourbon)
• James E. Pepper "1776" Straight Rye 100 Proof – rye whiskey *technically* isn't Bourbon
• Blue Dog Whiskey by Bluegrass Distillers – made with heirloom blue corn
• Kentucky Dark Fired Whiskey by MB Roland Distillery – made with smoked corn
• Ryemageddon by Corsair – American rye whiskey distilled from malted rye & chocolate rye
• Wilderness Trail Bottled-in-Bond Bourbon – sweet mash fermented
• O.Z. Tyler Bourbon – after a year and a day of aging, the Bourbon is TerraPURE filtered before finally being bottled
This class is the fifth in our year-long "Bourbon University" with a new theme offered each month.
Led by The Kentucky Castle's Bourbon-Steward-in-Residence, Tim Knittel.
➡ No need to attend them all – mix and match as you like!
$35 per person, class includes guided bourbon flight and light food. Dinner reservations at Castle Farm Restaurant available for after the class.
https://www.eventbrite.com/e/bourbon-production-ii-may-bourbon-university-the-kentucky-castle-tickets-45405677604
Each Wednesday in May (2, 9, 16, 23 and 30) 6:00pm – 7:30pm and the Third Sunday (20) 3:00pm – 4:30pm.
* The thing about craft, experimental and near Bourbons is that they're often in very limited releases … so everything is subject to availability. We'll have an awesome pour list even if it's not these exact spirits!