Summer Farm to Table Bourbon Dinner for June at Addie's
June 14, 2018 @ 6:00 pm

-

7:30 pm

$50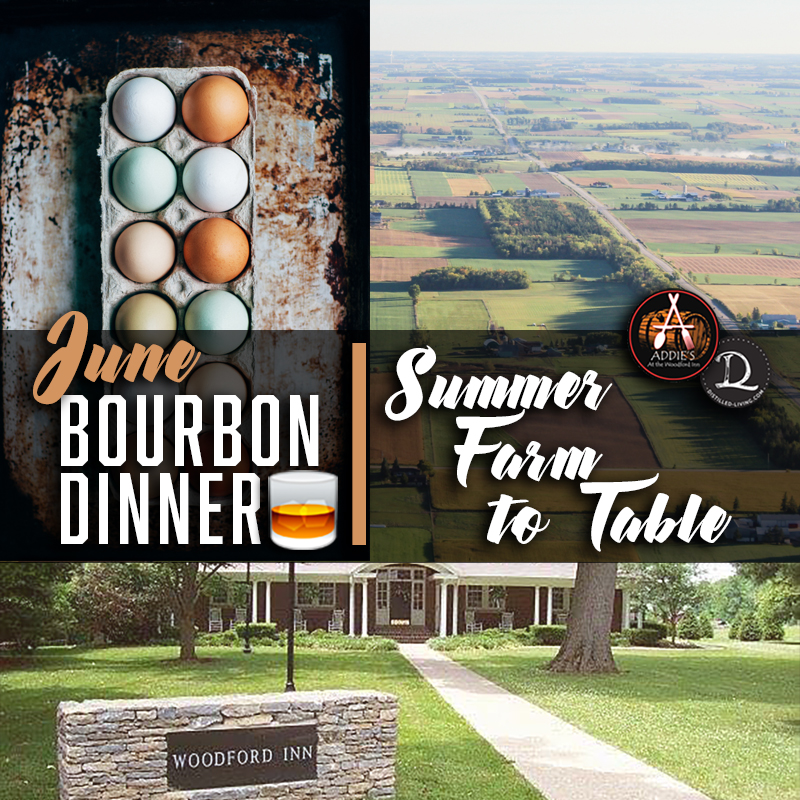 Celebrate summer with three-course gourmet dinner featuring local harvest fruits & vegetables, locally-sourced meats & cheeses all paired with local Bourbons from Central Kentucky Craft Distilleries.
Our chefs are still sourcing final ingredients so look for a final menu soon. We do know that this menu will be broken down into three main courses:
•SEA: yes, "sea" in Kentucky! This course will be either prawns or fish sourced here in Kentucky. First course will go with Bluegrass Distillers Blue Corn Bourbon – blackened tilapia salad featuring greens and fish from Bluegrass Aquaponics
•LAND: our main meat and veggies course for the evening with hopefully one or two of our farmers to talk to you about Kentucky farms and agriculture. Second Course will go with Hartfield & Co. Bourbon – Strip steak, grilled asparagus and tomato, garlic potato puree drizzled with hollandaise featuring beef from Claremont Farms
•EGGS: duck egg custard served in the egg shell. There was no hesitation here, something fun, delicious and decidedly different to conclude our local menu. Third course will go with Wilderness Trail Distillery Bottled-in-Bond Single Barrel Bourbon – duck egg flan with spiced pecans and strawberry coulis featuring Annabelle & Michael's Eggs from Evermore Farm.
To stick with our local theme, since this is Kentucky and home of Bourbon we decided to go hyper-local to showcase several craft distilleries.
All courses will again be paired with lively presentations and discussions led by Executive-Bourbon-Steward and industry insider, Tim Knittel. Want to know more about the locally sourced grains? What differentiates craft distilleries from other distilleries. Is it really moonshine if it's made legally? We'll definitely be talking about all of this.
$50 per person plus tax and gratuity. Seating is limited.
(We also have a few dinner-only tickets for $40 as we've had a few people want to attend with a spouse or friend and not drink.)
Suggested attire is business casual. If you haven't been to Addie's before, there's plenty of parking!
Call 859-873-5600 if you have questions!