Tecumseh Drama – First Capital Bourbon Dinner 2019
November 8, 2019 @ 6:00 pm

-

11:00 pm

$75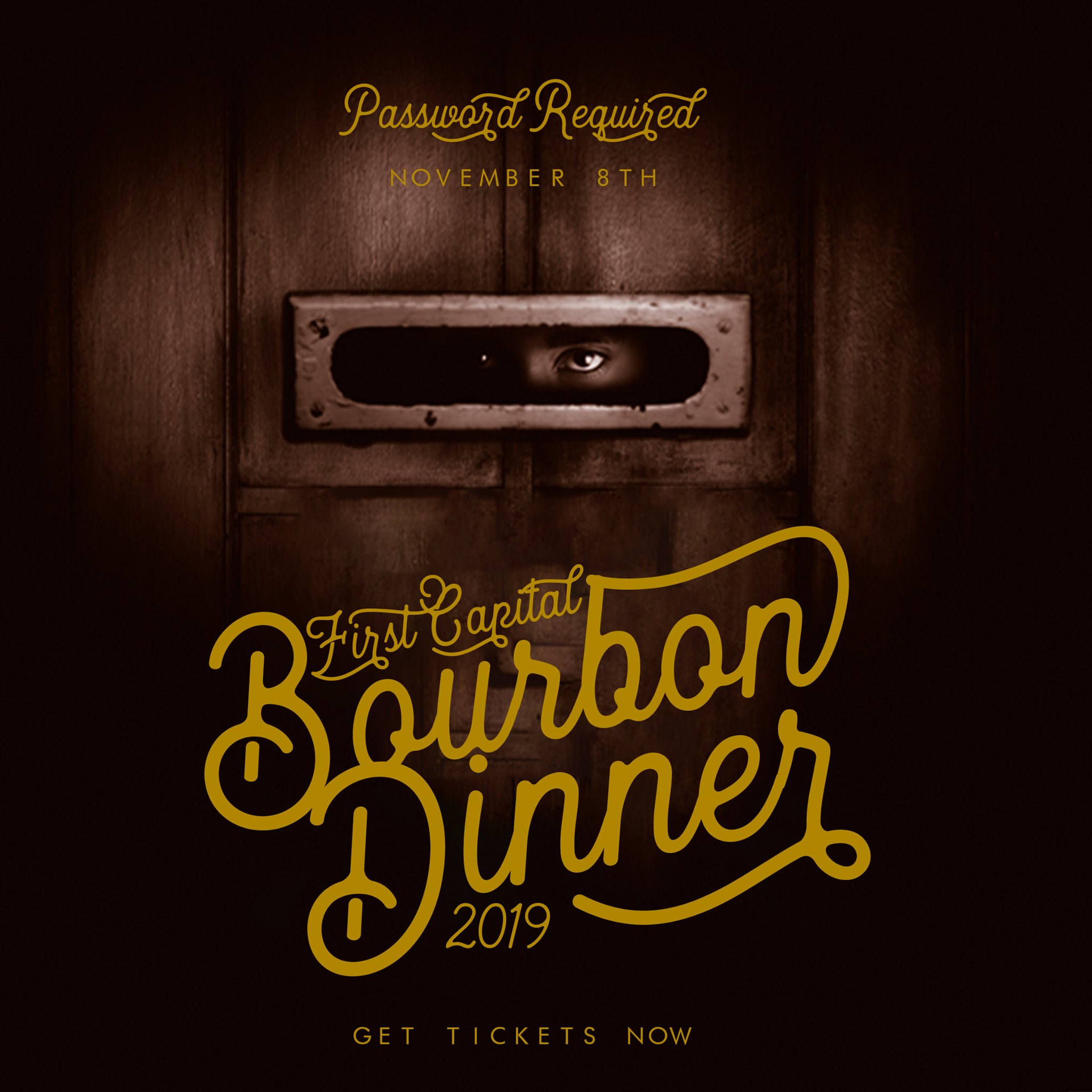 Join us for an evening of bourbon history, A Van Winkle 12yr Bottle Raffle, lore and of course, sampling!
Tim will be serving up 4 straight bourbons, some which you're familiar with and some not, while the chefs at the Christopher Conference Center will be pairing each one with a course of food. Dinner is served at 8, cocktail hour at 7, cigar hour at 6. This event WILL SELL OUT!
Tim Knittel, of Distilled Living is a Kentucky bourbon industry insider with over a decades experience in bourbon education. He is also a certified Stave & Thief Society Executive Bourbon Steward (often compared to a Bourbon Sommelier) which is the highest classification available for a professional bourbon educator.
MENU:
Charcuterie Boards- Delicious mix of Meats, Cheese, and Spreads
A Special surprise from the Kitchen
Barbecue Shrimp with Charleston Grits
Eight Ounce Filet on a bed of fresh Onion Straws with a Homemade Peppercorn sauce. Served with a twice baked potato and glazed Woodford Reserve Brussel Sprouts
CINNAMON SUGAR BOURBON PEACH UPSIDE DOWN CAKE Served with Vanilla Bean Ice Cream
In addition to the tasting menu, several other bourbons will be available at the bonus tasting. For just $10, sample 3 other bourbons! Bonus tasting begins at 6PM.
A small silent auction of bourbons unavailable in our area will take place prior to the tasting.
Free cab rides are available, as are special room rates at the Christopher Inn. Call 800-257-7042 or click the link for room reservations.
All proceeds benefit the education programs of The Scioto Society.
Van Winkle Special Reserve Lot B Raffle
This is a bottle of the famous Van Winkle 12 year old Lot B. This Kentucky Bourbon can stand up to any Cognac as an after-dinner drink. The overall character is rich, deep, elegant and balanced. This sweet, full-bodied spirit has been described by some as "nectar," and is the perfect combination of age and proof. Its twelve years of aging in charred, new American oak barrels and bottling at 90.4 proof seem to be just right in creating a very pleasant dram. Sip it neat, or add a little water or ice and watch it evolve. Nose: Incense, clove, wood, pear cider, honey, beeswax, and red currant. Palate: Oak-inflected upon entry. Finish: Cola, coffee, and bitter herbs.
Tickets for the raffle are $10 or 3 for 20 and a maximum of 300 will be sold. Winner will be chosen at the bourbon dinner and you need not be present to win!
Second Prize: Four Roses latest release, Small Batch Select (currently unavailable in Ohio)
Third Prize: Black Powder Bourbon
Raffle tickets available here: https://squareup.com/store/tecumsehdrama/item/old-rip-van-winkle-year-old-raffle?square_lead=item_embed
Bourbons available at our bonus tasting:
Lexington Bourbon
Old Grand-Dad Bonded 100 proof
Old Fitzgerald Prime Bourbon
Rabbit Hole Rye
Buffalo Trace Bourbon
12 Foot Beard Whisky
Jim Beam Bottled in Bond
New Riff Bourbon
Rittenhouse Rye BIB
Knob Creek OHLQ Single Barrel Rye
Bourbons available at our silent auction:
Bookers Kitchen Table
Jim Beam Urban Still house Select
Infuse Spirits Broken Barrel Total Wine Store Pick
Old Forrester Velvet Rope Store Oak
Woodford Reserve Double Oak Jax Liquors Store Pick
Chattanooga Whiskey 1816 Small Batch Bourbon
Rowans Creek
Knob Creek OHLQ Single Barrel Rye
Blantons Single Barrel
EH Taylor Small Batch
Saint Cloud Bourbon
Knob Creek 2001 Limited Edition Batch 2 Bottle 1589
Peerless Rye Marty Whisky Selection "Who Does #3 Work For?"
https://www.facebook.com/events/2258537510893382/