To be honest, I should have tried this one a full year ago. Eighteen 33 Straight Bourbon Whiskey is the first expression from Boone County Distilling Co. The distillery opened, joined the Kentucky Distiller's Association and released their 10 year old bourbon all in the last quarter of 2015.
So, sourced products, obviously. Especially since 'Kentucky' is missing from the label.
Unlike a lot of sourced whiskey, Eighteen 33 is almost open about where the bourbon is coming from: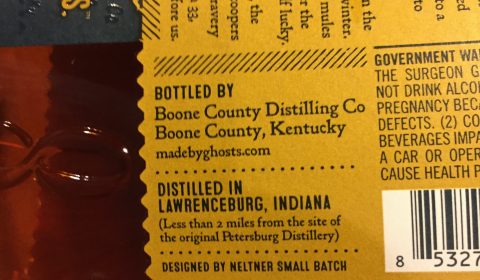 So we're tasting 10 year old MGPI for $60-70 a bottle. A little steep maybe, since other bourbons at that age from that distillery can be had for $10 or so less a bottle, but MGPI does make great whiskey and there is something to be said for which barrels, exactly, go into the individual expression.
Normally I dive right in once the bourbon is in my glass, but due to some very enjoyable banter with Jim Taylor, one of Cork & Barrel's owners, I let the glass sit about 10 minutes before picking it up. Interestingly, right about the 10 minute mark, a waft of caramel and vanilla drifted up to my nose as if the bourbon was demanding my attention back. I think that's one mark in its favor.
Color: Medium-dark golden amber; what one would expect for 10 year old bourbon.
Nose: Strongly sweet with the classic caramel and vanilla notes, cotton candy and light cherry.
Palate: The alcohol is a little more prickly than I would expect for 90.8 proof but it's not unpleasant and has very little burn. The oak note leans a little toward sawdust but the sweets from the nose overshadow it. This bourbon doesn't have the complexity that many bourbon drinkers have come to expect from moderns products. It really is a little more a throw-back flavor profile (but not all the way back to 1833 – that wouldn't have been nearly as pleasant as this one!). All the expected bourbon flavors are there, though, including the caramel, vanilla, smoke/oak and just a touch of corn.
Finish: Short and warm but no burn. Same flavors as the palate.
Verdict: Enjoyable to be sure, but probably a little high on the price. But it's a good one to introduce people to the bourbon category with.
One more note – the bottle looks amazing. It hits all the right marks for evoking vintage bourbon elegance. There's a cool write-up the design at The Dieline: http://www.thedieline.com/blog/2016/4/20/eighteen-33-bourbon