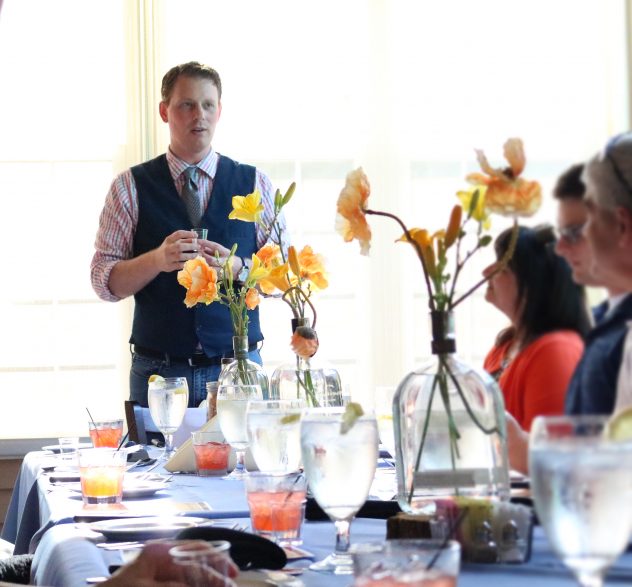 Add an upscale touch for entertainment & demonstration to your wedding.

Whether it's the reception, rehearsal dinner or even a tasteful bachelor/bachelorette party, we can help your guests get the most flavor and experience out of fine bourbons.
Wedding Packages:

We offer several types of guided Bourbon tastings:
Expo-style Tastings involve the tasting guide set up a table offering short (3 – 5 minute) guided experiences to guests at their leisure as they come up to the table. We recommend limiting to two or three Bourbons for this type of tasting.
Formal Tastings involve a longer presentation for the entire group at once. These may be anywhere from 10 to 90 minutes depending on the event. We will provide tasting mats for formal tastings.
Bourbon Bar Host brings the expertise and experience to guiding your guests to a bourbon or cocktail that matches their palate as well as the knowledge they can share about various distilleries.
Our guided Bourbon tasting options always include:
How to nose and taste Bourbon like a professional
How to taste Bourbon for flavors like caramel, vanilla, smoke and spike
Each tasting will then have unique elements like comparison flights, aromatic references or culinary pairings to help your guests identify the nuanced flavors in the Bourbons selected.

Some popular tastings and themes are:
Bourbon 101 Using more common and popular Bourbons like Maker's Mark, Jim Beam (Extra Age or more premium recommended), Evan Williams, Wild Turkey, Bulleit or Woodford Reserve.
Small Batch Bourbons With brands like Booker's, Knob Creek, Woodford Reserve, Elijah Craig, Four Roses Small Batch.
Single Barrel Bourbons Which could include Blanton's, Kentucky Spirit, Evan Williams Single Barrel, Four Roses Single Barrel, New Riff Single Barrel, Wilderness Trail, etc. or barrel picks from local retailers.
KY Bourbon Trail® Tasting With a selection from Four Roses, Woodford Reserve, Bulleit, Heaven Hill, Wild Turkey, Jim Beam, Angel's Envy and more.
Bourbon Palate Training By pairing Bourbons with specific food item like toasted nut, candied ginger or orange sliced, guests are able to identify nuanced flavors and learn to taste the differences among Bourbons. This is our most popular tasting and we often hear that through this tasting people often have their first experience tasting individual flavors in Bourbon!
Vintage & Rare please inquire.
Or we can tailor a tasting to your specific preferences.
What about Bourbon cocktails?
We love Bourbon cocktails! We can help design a Bourbon cocktail unique for your special day to help introduce your guests who might not be ready to enjoy Bourbon straight at full strength.
---
Wedding Pricing:
---
Wedding specific FAQ
Like wedding venues, we have high and low seasons. Keeneland & Derby weeks are our busiest even though this is outside of the typical wedding season. We have other types of events booked during these times.