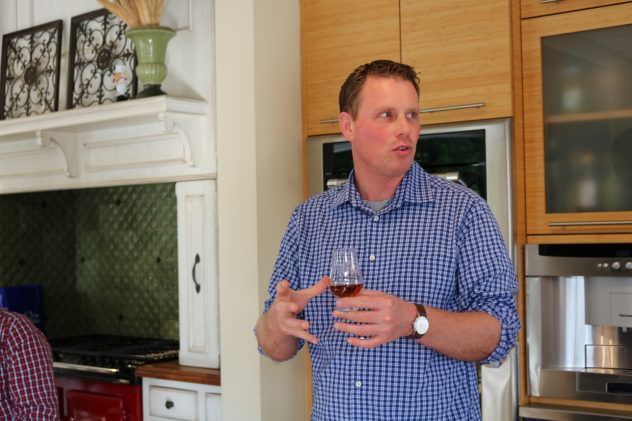 Provide your guests with some authentic Southern hospitality with a guided Bourbon tasting! We can teach your guests the basics of Bourbon plus how to nose and taste like a professional.
It's the Kentucky version of having a Sommelier at your event. 🥃
Our training is often the first time people can taste the nuanced flavors in Bourbons like caramel, vanilla, smoke, spice and fruit. Sometimes it will be the first time a guest actually truly enjoys bourbon!
Or if cocktails are more your style, we can teach your guests to master the classic Bourbon mixes – the Old Fashioned, Manhattan, Whiskey Sour and Mint Julep. We cover flavor theory, mixing technique, types of ice and specialty mixers. Great for Bourbon lovers and those would prefer their Bourbon with a little extra sweetness.
Maybe you want something to impress. Ask us how our unique Showtending℠ program can engage & entertain your guests. We can help you develop unique events including traditional bartending and mixology, demonstrations and classes, and interactive workshops using a wide range of spirits and even food/culinary and beverage pairings.
We come to you – whether you're in a private home/Airbnb, or out at a local bar, restaurant or event venue. Included with the presentation is a mini-distillery display, aromatic tasting aids and keepsake visual tasting guides.
Pricing:
1 • Standard Event FAQ
A letter of agreement & 50% retainer that applies towards your event secures you on our calendar. 
Often, I'll set up a phone appointment so I can get to know more about what you're looking for and find out about your wedding day just to make sure everyone is on the same page before requesting these. When it's decided that you want to book, we'll email an agreement for you to sign and an invoice for the retainer. These can be signed and paid for online or mailed with check. If you choose to send a check, please send it promptly because until the retainer is received, you are only penciled-in for that date.
Distilled Living does not carry a liquor license, so we are not able to provide the Bourbon. We can work with your venue or caterer if they are providing the alcohol or with the family if they are providing it. We can help with Bourbon selection and sourcing including vintage and rare products if requested.
We provide a certified Executive Bourbon Steward, which is usually Tim Knittel (subject to availability). We provide visual and aromatic tasting aids plus a mini-distillery display for the tasting table. We can also provide plastic sample cups plus tasting mats and written tasting guides upon request.
We can also provide culinary food pairings (provided as packaged food to comply with health department codes) or we can assist in having those provided through your venue or caterer.
You will need to provide the alcohol plus a table. Some couples also like to provide a memento of the Bourbon tasting experience like a gift mini-bottle or basket or an engraved Bourbon tasting glass.