It's 2022 and we're still rolling out Virtual Events & Experiences!
We're the world's largest Bourbon and mixology events company and have led over 700 virtual events since April 2020 including corporate team-building, client engagement, fundraiser and private parties.

Aften, Thank you for doing a great presentation once again. This group was much more interactive with their questions and you answered all of them to perfection.
Cheers!
Denise

Good morning Aften, Hilary, Tim, I want to share my sincere thanks for helping us create a wonderful experience for our partners at Adobe & AT&T last night. I've hosted several tasting events and this one one of the most professionally set and educational presentations I've seen — thank you!
Shell and Nick were the perfect presenters, especially for this very bourbon-centric crowd, and they were so wonderfully flexible with our timing as the conversation flowed. I'm recommending my colleagues on the Integrated Marketing team to consider using Distilled Living for their future events and will send an introduction email shortly. While I know your December dates are filling up quickly I hope they might be able to work with you sometime in the future.
It was truly a pleasure working with such professionals. Thank you again for your great work.
Cheers!
Elle
(Yext w/ Adobe and AT&T)

Steve, What an awesome event, thank you so much for everything!  Lots of engagement, lots of laughs.  Overall just a fun time!
We look forward to more events in the future!!!!
Andrea

Hi Tim, I just wanted to say thank you  and your entire team for helping me pull off a seamless surprise for Tony's birthday. But I especially want to say how awesome Ed Comfort was. He did a fabulous job and everyone thoroughly enjoyed his guidance with the bourbon!
I am so glad I found Distilled Living. Thank you again!
Leslie

Hey everyone – Aften and Shell, especially! Our feedback on these events has been outstanding!!  We will definitely be scheduling more in the coming weeks. Thank you so much for engaging, entertaining, and educational events for our partners and their customers. We look forward to the next one!

We had a great time.
Are you interested in round #2? … we were thinking about a cocktail class. 4-5 famous bourbon cocktails. Thoughts?
Also, September. Would you be interested in spending the weekend with us in September? It would be badass to have a true bourbon steward hanging out with us to answer questions etc.
We have a fun weekend planned.
Let me know!
Mike

Abbey~ I want to Thank you and Tim for such a wonderful evening!! Over the past few days, I have received multiple calls from attendees gushing over the event.  I know I learned a ton about bourbon and continue to be amazed by the science involved and how the environment impacts the overall tasting notes.
Hopefully, we can do this again in the future!
Thanks,
Beth

Can't thank you enough ! Had such a great time with you guys.
Everyone had a lot of fun – would love to have you guys for our next event !
—
Sarah

We had a great time with Ed!  Folks really enjoyed the tasting, he was so knowledgeable, even the Bourbon "experts" amongst us learned a lot .  We are all planning to pay Ed a visit and toast him when we go to the Bourbon trail in person.  Thanks so much for a great event!
Cheers,
Rafael

The event was outstanding!  Distilled Living delivered an excellent event again!
Please keep me aware of any new type of events that you are offering.
Thanks again for all your support!
Ken

Tim and Aften- Last night's bourbon event was a huge hit. Thanks so much for leading this happy hour for Ferguson and Oracle. I look forward to the next one!
Doug C. Park

The event was absolutely wonderful. Everyone was extremely excited about the knowledge skills and fun stories. My partner said that he felt like he went from someone that was interested in bourbon to feeling like a legitimate fan. Two members of the group had privately told me they didn't really like bourbon before the event but were excited to do the tasting with Kristian–they now have told me that it turns out they like bourbon. 🙂
Ed was such a professional and really put everyone at ease and empowered them to learn. They are all planning on making the trip to Kentucky in the near future and want you all and Ed to lead the way. The course was so professional and a lot of fun for them all.
Thank you again!
Best,
Charlotte

Aften and Nick, Just wanted to say thank you very much for last night's event.  Your set up, production, attention to detail, knowledge and engagement blew your competition out of the water.  Great job.
I have already been asked by a few of the guys the name of your company and how the process works.  Maybe we can even get you guys some more business out of it!  Have a great weekend.
Doug

Tim kept the group engaged and interested. Definitely a home run!
Thank you for checking in!
Lori

Aften, You were great today! We appreciated the time you took to walk us through the tasting and answer our questions!
Is there a link I can send to the guys in order to leave a review? We'd love to give you some good press for future patrons looking for a great event!
Also – I'm sure you'll be getting some family and corporate event bookings in the future from this crew!
Cameron loved it (most important part so thank you!) and the guys all learned a ton and had a great time.
Very much appreciated your time – have a great weekend!
-Brennen

Tim and Team, Thank you so much for providing an excellent tasting last night. Everyone really enjoyed it and Aften did a wonderful job presenting and answering all of our bourbon questions. We would like to provide a tip for the job well done – what's the best way to do that?
Thanks again and hope to host another bourbon event soon.
Elise

Thank you!  It was an awesome event and a lot of fun.
Jeremy

Thanks for a great first round of events this week, clients were thrilled with the flow of the events, your expertise, and professionalism.
Have a great weekend, see everyone next week!
Emily

That was fun! Thanks, Tim & Abbey! …(the group photo) attached turned out great. 🙂
Courtney

Thank you Hilary, our event went really well – Tim did a great job and we have received amazing feedback.
Merissa

What a great presentation that was! Thank you for being super interactive. It was very much enjoyed!
Angela

THANK YOU for making my husband's birthday so special.  He and his friends loved it.  If there is a way I can post a testimonial please let me know what platform – but your extensive knowledge about Bourbon, your storytelling just made for a truly unique experience.
Thank you to you and your staff! Def will be referring you guys as  your brand & the experience your team provides is really top notch.
Thank you again
Jamie

Hi Aften.  I had a zoom tasting with Chris and  I was wondering if it is possible to get the recipes for the drinks we made that night?  We loved them all!
Also, please let him know that we all had a great time and I have had a handful of people ask for your information.  Thanks so much!
Katie

Good morning everyone,
I just wanted to say that we had a fabulous time on Saturday and my husband's birthday was a great success.  Thank you so much to Ed for hosting!  You were the perfect mix of education and fun.  Even with Covid you made this a memorable birthday and we will all be drinking more bourbon!  Hoping we get the chance to come to Kentucky and hit the Bourbon Trail in person soon!  The weekend kicked off with our tasting, then Mizzou football won, Sporting KC MLS Soccer won and finally the KC Chiefs won – it was a banner weekend!
Our kit arrived with everything we needed and we had no technical issues so thank you to everyone for your help!
Kristi

Thanks to everyone that made our event a success! We had such a great time with Ed yesterday, and everyone learned a lot. Afterwards, our party was comparing notes and debating which was their favorite using what we learned during the session. Behind the scenes, it was so nice and easy to plan this surprise with this incredibly prepared and professional team. We sincerely hope to make it to Kentucky one day to meet you all.
All the best,
Mary

Very successful. 26 participants. Very interactive and everyone stayed on 30 minutes later since it was so fun.
Jonathan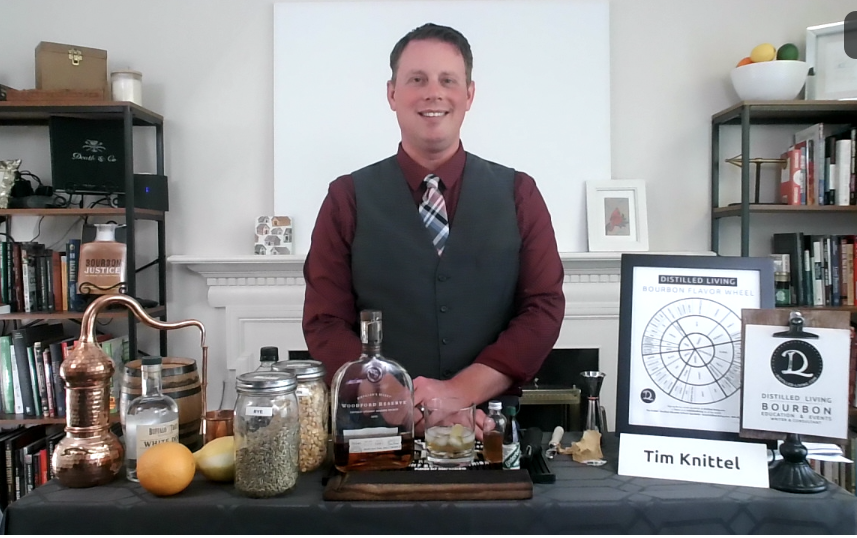 Our presenters are certified Executive Bourbon Stewards, Bourbon industry insiders, certified Tequila experts and master mixologists with specialty training to make your event educational, engaging and fun!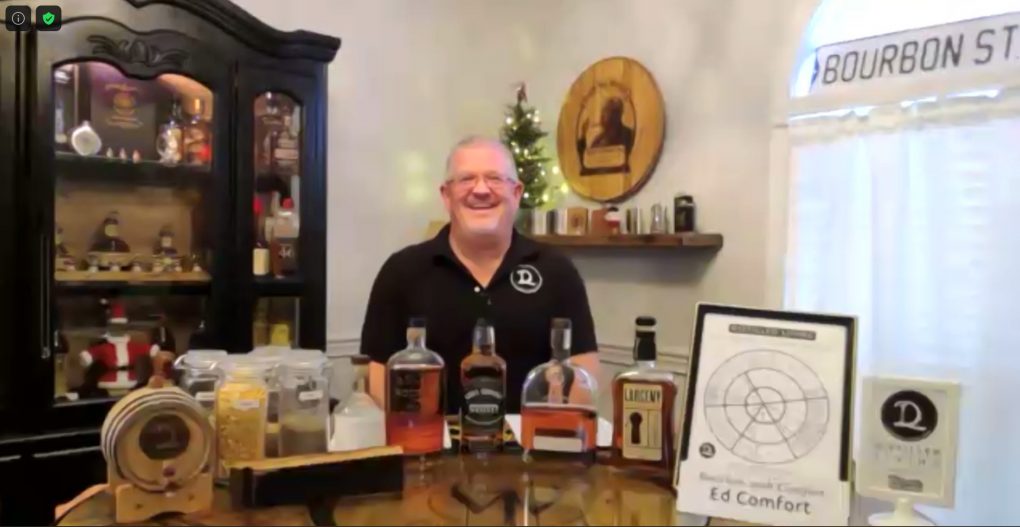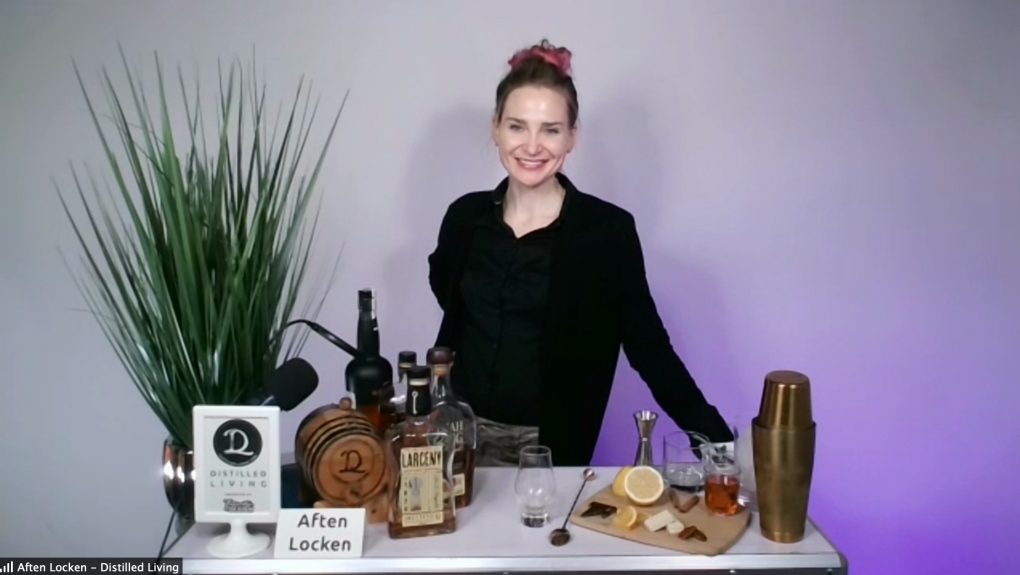 Whether you have a company of 900 or a gathering of 8 friends, we can bring an entertaining or educational element to your online party or conference.
We broadcast from professionally designed studios with premium lighting, video and sound quality. During your event, our presenters are supported by production technicians to ensure everything runs smoothly and a chat moderator to allow guests to interact via text as well as audio and video. We offer our Zoom channel for your use or we can use your virtual meeting platform.
Through our retailer partners, we're able to ship Bourbon, Tequila and cocktail kits to your guests. The tasting kits typically range from $85 – $275 depending on budget, presentation goals, rarity of spirits, size of bottles (mini vs full), etc. Please note that we recommend two to three weeks' lead time to ship the kits. If you are tight on planning time OR want to opt for "bring your own" we may make specific recommendations based on where you live due to some product availability or by state.
We specialize in virtual events that are more like an interactive tv show.
We're not spirits snobs preaching at you – we want everyone to enjoy themselves!
---
Virtual Bourbon Tastings:
These are just a few examples of concepts we can cover:
Virtual Kentucky Bourbon Trail ® Guided Tasting
Bourbon 101 including Bourbon Sensory Analysis & Palate Trainings
History of Bourbon & Bourbon Production
Bourbon Types: Wheated vs Rye, Small Batch vs Single Barrel, etc.
Virtual Cocktail Classes:
In addition to bourbon we can teach you to make an amazing cocktail at home including:
Old Fashioned
Julep
ask us about our seasonal offerings!
NEW!
Scotch Tastings
Tequila
Exclusive experiences & kits!
---
What's provided:
We work with several fulfillment partners or we can give you a recommended list of products which are easily obtainable in most regions with some possible alternatives.
If it's a sensory or cocktail class, a list of items, additional ingredients and tools.
Customized tasting mats to be printed at home.
Flavor wheel that can be printed at home.
---
Get a Quote / Book an Event
---
Meet the Presenters:
Our team includes Kentucky bourbon industry insiders with over 10 years experience in bourbon education and event design. Executive Bourbon Stewards (often compared to a Bourbon Sommeliers) have the highest classification available for a professional bourbon educator.
Tim Knittel
Founder of Distilled Living
Aften Locken
Presenter, Sales
Ed Comfort
Presenter
Shell Rapier
Presenter
Nick Laracuente
Bourbon Archeologist (currently unavailable for booking)
Tom Wilmes
Presenter, Writer
Steve Coomes
Presenter, Author
Alex Morgan
Presenter
Qwenton Briggs
Virtual event moderator
Meet the FascinationDesign.com production team:
Our videos are professional quality in partnership with FascinationDesign.com & those that are part of our public series have have been picked up and broadcast by local tourism.
Hilary Baumann
Partner & Production w/ Distilled Living & Founder of FascinationDesign.com
Josh England
Production Manager w/ FascinationDesign.com
Abbey Lile-Taylor
Sales & Event Facilitator with Distilled Living & Production Specialist w/ FascinationDesign.com
The virtual event technology we are experienced with:
Large groups:
Zoom (preferred)
Microsoft Teams
Remo
Bluejeans
WebEx
Google Hangouts
GoToMeeting
On24
Amazon Chime
Small groups:
Zoom
Skype
Facetime
Facebook Messenger
Whatsapp
Google Duo