Yesterday I attended the official opening of Prichard & Bail, the new craft cocktail bar inside the Hartfield & Co. distillery in Paris, KY. I'd been looking forward to going because I know Andrew Buchanan, the owner, and I know the reputation of Jason Gambrell, distiller/mixologist.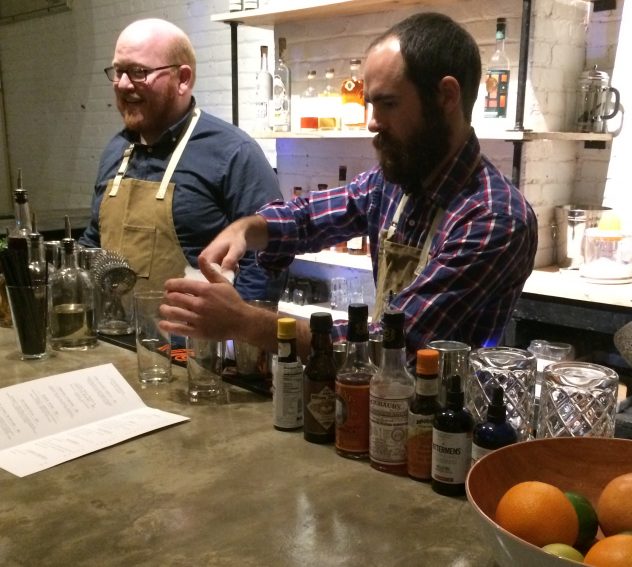 I'd previously attended the soft opening a little over a month ago. Having a soft opening was definitely the right decision as the improvements are leaps and bounds from then.
Please keep in mind that Prichard & Bail is in Paris, KY. Population 8,553; 1 bar. (Although the city does boast a craft brewery.)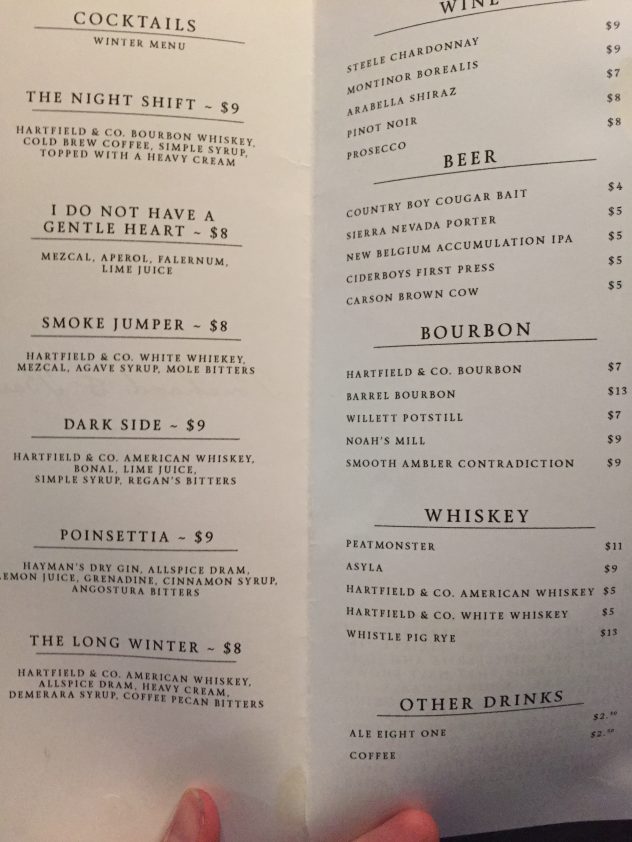 Hilary and I tried three of their house cocktails plus one standard cocktail over the course of our evening. She started with the Dark Side; I started with The Long Winter. Later I ordered an Old Fashioned and then The Night Shift (she was driving).
It's clear that during the last month they've put serious work into the precise recipes for their house cocktails. They're not just good – they're fully three steps above what I'm used to here in central Kentucky.
The Dark Side is a perfectly balanced combination of whiskey, bitter, sour and sweet – no small feat as most cocktails go either bitter or sour, or just use excess sweet to cover up any flavor. Both the The Long Winter and The Night Shift use real cream which is a nice touch although it does introduce a risk of curdling (but that's what you get with real ingredients). (Scroll back up for the menu that includes the cocktail ingredients.)
Little touches like the Demerara syrup really make the drinks. Jason explained to me that they had struggled with the The Long Winter until they introduced that ingredient – simple syrup was too cloying sweet but Demerara adds richness and a compliment to the allspice dram.
My Old Fashioned was so good that when Jason tried to clear my apparently empty glass, I swatted him away until I'd encouraged the last few drops into my gullet.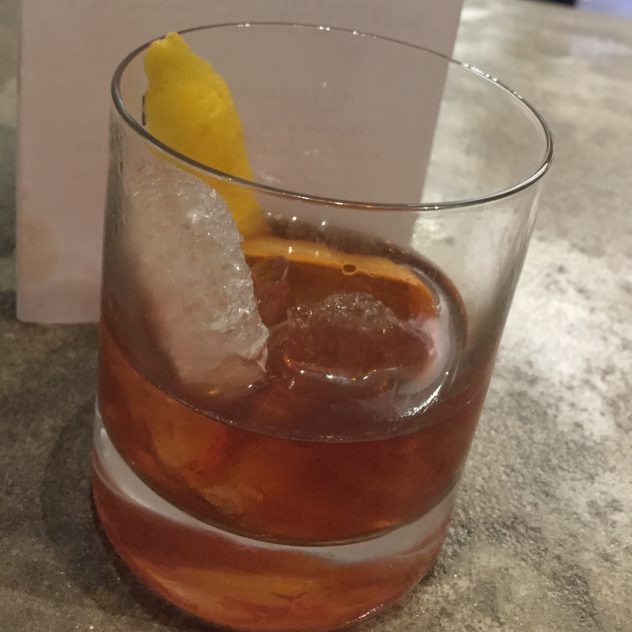 While in theory, The Night Shift was my drink, Hilary and I split it probably evenly. P&B make their own cold brew coffee using a Kona blend which, to my surprise, complimented their bourbon in a way the highlighted the sweet caramels and vanillas and rich wood and smoke notes without exposing any tannic bitterness. As soon as the finish left my palate, I found myself reaching back for my glass for another sip.
Presentation of the cocktails is also well considered; glasses are appropriate to the contents of the drink. And neat whiskey is served in a Glencairn glass.
While their selection of base liquors and mixers is minimal right now (no chartreuse or absinth, for example), the ingredients they do have are the highest quality. They make their own simple syrup, Demerara syrup and grenadine and the citrus is basically juiced to order.
The service is a little slow, but remember what I said above about remembering the location? If you live in Paris, that's the normal speed. If you've driven all the way to Paris, chill out a bit – the drinks are worth the time.
The atmosphere is comfortable with a mix of barstools, chairs, couches and an extra-long picnic table. There's a pool table and darts and you can walk through to the distillery to admire the stills and aging whiskey.
Hartfield & Co. has partnered with Gurkha Cigars to produce a bourbon-infused cigar which is available for purchase from the gift shop. And, because this the bar is in Paris, KY, you can actually smoke your cigar inside while you drink your bourbon. (See my review of the cigars here.) While cigar smoking is permitted, Andrew will give you a stern look for trying to smoke cigarettes; those are best taken out to the parking lot.
I'm looking forward to returning regularly especially as the seasons roll past to try new creations by Jason. If you're in Paris or passing though – or even nearby – it's worth stopping in.
Prichard & Bail is located inside the Hartfield & Co. distillery at 108 East 4th St., Paris, KY 40361. Hours are Thursday-Saturday 5pm-11pm. There is limited parking in the lot adjacent to the building but ample street parking nearby.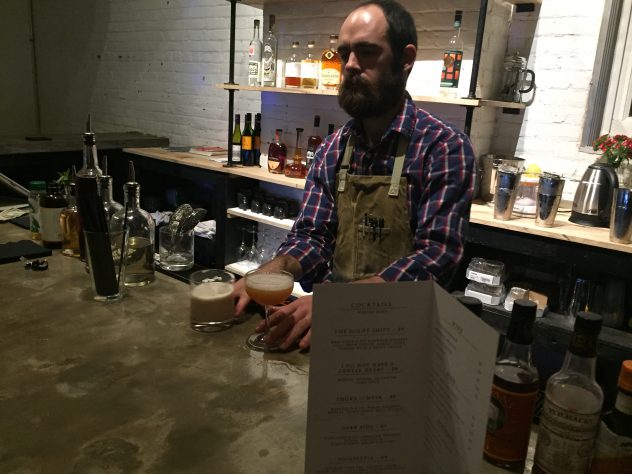 ---
[mappress mapid="2″]
Hartfield & Co.
https://www.hartfieldandcompany.com/
108 East 4th St.
Paris, KY 40361
859-559-3494
Tour Hours
Monday 8-4
Tuesday-Friday 8-8
Saturday 10-8
Several other & private tour options are also available:
https://www.hartfieldandcompany.com/tour-hartfield-and-company
Pritchard & Bail (the bar)
Thursday-Saturday 5-11
https://www.hartfieldandcompany.com/prichard-and-bail/
---