Reviewed as part of my participation on Distiller.com's Tasting Table. You can see my official tasting notes and rating plus enter your own using the website or Distiller app.
With the explosion of finished bourbons on the market, it's hard to find a unique selling point. Amador came up a pretty clever one – the 38th latitude: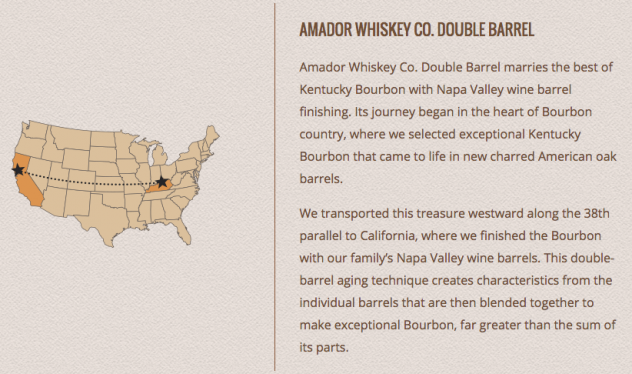 I don't think there's much legitimacy to the idea that the 38th latitude is particularly special, but at least it's a differentiation point.
Production: Sourced Kentucky bourbon given second maturation in Napa wine barrels; presented at 80.8 proof; no age statement.
Color: Bourbon brown with a ruby tint.
Nose: Light with noticeable ethanol. Some dark fruit notes including cherry and blackberry plus oak, vanilla and a little spice.
Palate: Grain and oak forward with subtle sweetness. The fruit and spice notes from the nose are still present. The spice is a little easier to differentiate as cinnamon, clove and nutmeg.
Finish: Long, primarily oak – both toasted and charred – plus the grain and spice. The fruit is lost by the finish but a chocolate note emerges.
Verdict: Amador Double Barrel is very drinkable. Too grainy to be a spectacular bourbon but for $40-50 it's quite nice.