Barrel picks are all the rage among bourbon enthusiasts and for good reason. The idea behind a barrel pick is that each barrel is different with its own subtly different flavor profile. When an individual, group, liquor store or bar "picks" a barrel, they choose from a selection of barrels presented by the distillery. One (or sometimes two) is declared the winner and the contents of that barrel is bottled up exclusively for them.
This often involves a trip to the distillery's warehouse to draw samples right from the barrels: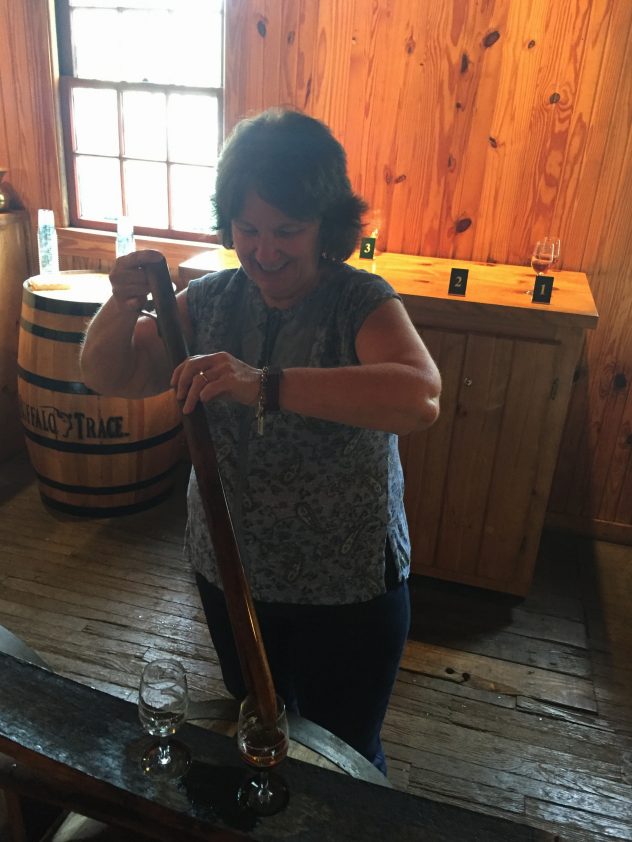 Which is an amazing experience, but subject for another post.
Here, I want to look at the flavor profile differences between the standard Buffalo Trace Bourbon vs Cork & Barrel's Buffalo Trace barrel pick 102:
Buffalo Trace Bourbon
Nose: Cotton candy sweet with vanilla, rose, honeysuckle, light smoke and tobacco.
Palate: Sweet wood, light tannins, smoke and tobacco, light fruit especially cherry and blackberry. Warm but not hot, medium to thin body and slightly bitter.
Finish: Medium length mostly consisting of warm wood and light bitterness.
Cork & Barrel Buffalo Trace Bourbon Barrel Pick 102
Nose: Complex caramels ranging from light to dark, complex chocolates, rich, sweet and vanilla.
Palate: More caramel, dry aged tobacco, chocolate, smoke and toasted wood.
Finish: Medium length with dark chocolate and subtle "holiday" spices including cinnamon, clove and nutmeg. Creamy mouthfeel.
So they're very similar but the barrel pick is more complex, more rich and more smooth.
Barrel picks can be thought of as "the best of the bunch" and are often my go-to, especially if I can talk to the folks who made the pick.
If you're unsure if you'd like pick 102 vs the original, at Cork & Barrel you can order a flight of the two before committing to a full bottle.
Cork & Barrel
2263 Nicholasville Rd #1, Lexington, KY 40503
(859) 278-9463
lexcorkandbarrel.com