FOR IMMEDIATE RELEASE

Special announcement EXTREMELY RARE BOURBON POUR
For the 3rd annual bourbon-themed fundraising event "DelectABLE Bourbon Charity Dinner"
Malone's Banquets, Lexington, KY • SATURDAY September 28th • 6-9pm


---
Lexington, KY – August 12, 2019

Vintage Old Elk bourbon tasting presented by Justin's House of Bourbon

We will be pouring samples of an original bottle of Olk Elk included in the Bourbon-tasting ticket price. This bottle is a rare bourbon from the original Old Elk brand valued at $4,000, barreled spring 1937 and bottled in the spring of 1941. Brian Booth of Justin's House of Bourbon will be presenting and pouring.

There is no estimate for the number of bottles that still exist so this is a once in a lifetime opportunity! Attendees with bourbon-tasting tickets will receive a ⅓ oz pour and once the bottle is gone it's gone!

Only 80 people will get to experience this! (We will additionally have some non-bourbon-tasting tickets if you want to bring a guest who is less interested in bourbon.)

This vintage Old Elk was distilled and bottled at the legendary Stitzel-Weller Distillery in Louisville under the Bottled-in-Bond designation. The Stitzel-Weller Distillery was founded in 1935 making this bottle one of the earliest to be produced at the distillery and at the time under the direction of Julian "Pappy" van Winkle.
Higher resolution photos are also available at https://drive.google.com/drive/folders/1uon3z2ToIDKeWTo4BEJhHrJZ4SJkic0I?usp=sharing

The new Old Elk
The Old Elk brand has been independently resurrected and representatives from the current producers of Old Elk will be attending this event: Luis Gonzalez, CEO and Greg Metze, Master Distiller.

Luis Gonzalez, CEO of Old Elk Distillery, is responsible for company visions, growth and planning initiatives, and developing distribution and brand strategies.

Greg Metze became Old Elk Distillery's Master Distiller following a 38-year career at Seagram's Distillery in Lawrenceburg, Indiana, one of the world's largest distilleries. MGP's first two consumer releases were developed by and named in honor of Greg Metze: Metze's Medley Indiana Straight Bourbon Whiskey in 2014 & Metze's Select Indiana Straight Bourbon Whiskey in 2015.

More about the DelectABLE Bourbon Charity Dinner:
On SATURDAY, Sept. 28, 2019, 6-9pm. ABLE will be hosting our 3rd annual bourbon-themed fundraising event "DelectABLE Bourbon Charity Dinner" at Malone's Banquets, 3373 Tates Creek Rd, Lexington, KY.

This event will include:
Reception
Silent & live auctions
Bourbon Expo
Guided bourbon tastings
And of course bourbon-pairing Dinner
Full event schedule and tickets can be found online at:
https://www.facebook.com/events/660506381049519/
or
https://www.eventbrite.com/e/delectable-bourbon-charity-dinner-2019-tickets-64240644497?aff=DistilledLivingWebsite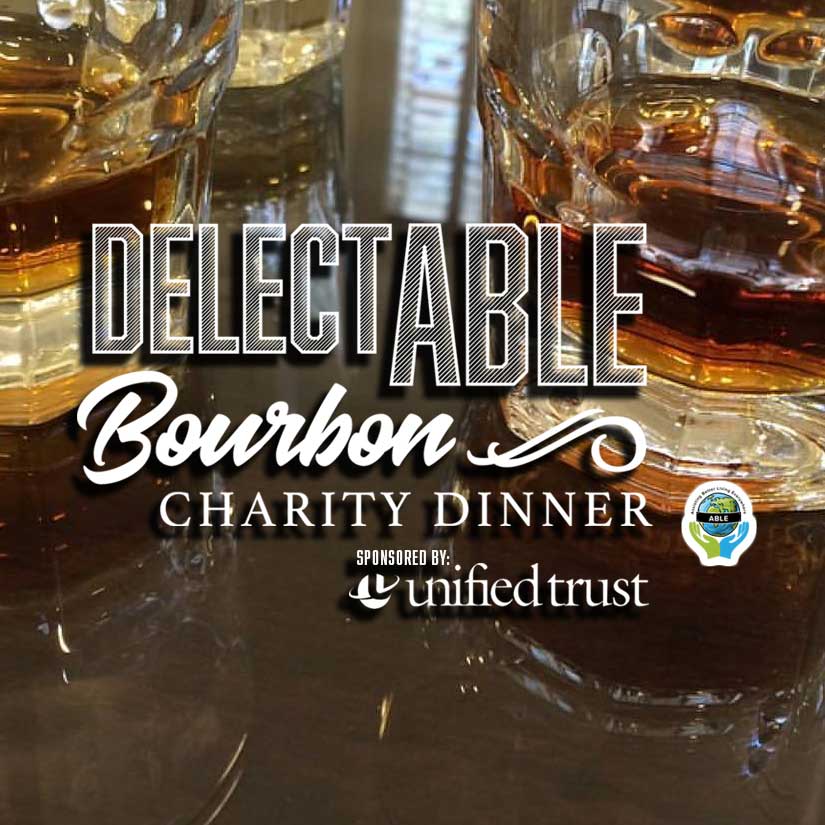 More about the charity
So….what is ABLE & why are we raising money?
ABLE stands for "Assisting Better Living Everywhere." That's a pretty cumbersome name, but it accurately explains what we've been doing since 2009 (granted 501(c)(3) status in 2010).
ABLE identifies areas where we believe we can improve lives and we work to make a difference.

In Kentucky, we provide critical home repairs to low income individuals, disabled persons and military veterans. We've built handicap ramps, repaired collapsed floors, replaced windows that made heating impossible, replaced doors that offered no security and much more.

Internationally, we've build homes in Haiti; school rooms, a clinic, a church and a bakery in Ghana; we've helped orphans and disabled individuals in Jamaica; we've worked in schools and clinics in the Dominican Republic; we've renovated a school in Belize; we've helped build a high school building in Uganda; we've helped renovate an orphanage in Myanmar.

★ All labor is performed by our volunteers and volunteers pay their own travel expenses for trips, but we must raise money for the construction materials.

★ We have a goal of raising $12,000 (or more!) with this charity dinner!

More information and photos from ABLE: www.ablemission.org

# # # 
For media inquiries or interview requests, please contact
Hilary Baumann 859-492-1654
or Tim Knittel 859-338-6681