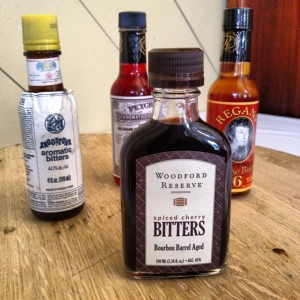 The new official Woodford Reserve product from Matt Jamie's Bourbon Barrel Foods.
This one has been under development for quite a while. Matt Jamie worked directly with WR's Master Distiller Chris Morris to craft a bitters especially suited for bourbon-based cocktails. Jamie has himself mastered the art of barrel aging foods. His barrel aged soy sauce is the only kind allowed in the house. 🙂
Nose: Highly sweet with a strong cherry scent reminiscent of  brandy. Light orange/citrus. Lots of rich, complex spices. It conjures images of sitting in the kitchen on Christmas day sipping brandy or cherry wine. No noticeable bitterness. No bourbon notes either.
The aroma is overly strong – it's rather like smelling cough syrup. But although they say 'aromatic,' remember that bitters aren't meant to be sniffed, they're meant to impart aromatic qualities to your drinks or food.
Taste: Uh, not going there. If anyone out there has tried this directly, I'd love to know what the experience is like. Bitters are a concentrate, not meant for direct consumption. 🙂
Two Cocktail Tests: Manhattan & Old Fashioned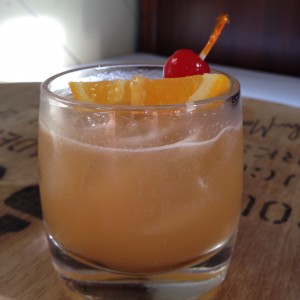 My main bartender Henry and I made a plethora of variations of each of these cocktails. We compared the new WR bitters directly to traditional Angostura bitters. Additionally, we experimented with variations in ingredient proportions, dash vs. dropper, addition of non-traditional ingredients for those cocktails, etc.
I'll spare you the gritty details and go straight to the results: the new WR bitters are awesome for old fashioneds, not so much for manhattans.
The main thing about these bitters is that they have spice, cherry, wood and bitter notes. There's not as much bourbon character to them as I would have expected since they aged in used bourbon barrels.
Using the WR bitters in the old fashioneds made the the cherry flavor pop without being overly sweet. Definitely a step up from Angostura.
For the manhattans, the WR bitters had the opposite effect: the cocktails became overly woody and too bitter. The cherry flavor (what little there should be – we don't use cherry juice, just a cherry for garnish) was completely lost. The resulting cocktail was not really appealing to either of us. We'll stick with Angostura for our manhattans.
We experimented with some additional cocktails involving coffee, maraschino liqueur, dry vermouth and more but none of them really seemed enhanced by the WR bitters.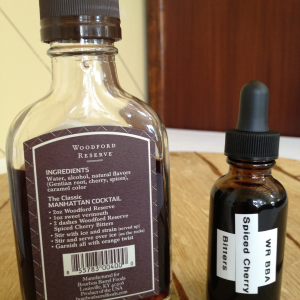 Be careful dashing this into your cocktails. The hole is quite large and it's easy to over do it. I recommend transferring it into a dropper bottle.
Conclusion
I'm immediately switching to the new Woodford Reserve bitters for my old fashioneds. That's probably the only cocktail I'll use them in for a while but I expect once more people have a chance to play with them some unique and interesting uses will emerge.
Available for purchase online direct from Bourbon Barrel Foods, the new web store for Woodford Reserve or in the gift shop at The Woodford Reserve Distillery.