Reserved enough? Man, these labels are getting long. But I guess that's what happens when you need both brand names together.
Like the others in the bourbon finished category, Jefferson's Reserve Groth Reserve Cash Finish (from now on:"this product") is bourbon given another round of maturation in used Groth Cabernet Sauvignon barrels.
Jefferson's a "sourced" bourbon, being produced under contract by a major distillery (sometimes called NDP – non-distiller producer), but that's neither here nor there for this review.*
What is relevant is how it's made and how it tastes. Interestingly, Jefferson's goes to some effort to get the most from those Cab barrels and they even talk about it! Check out this tidbit lifted from their website: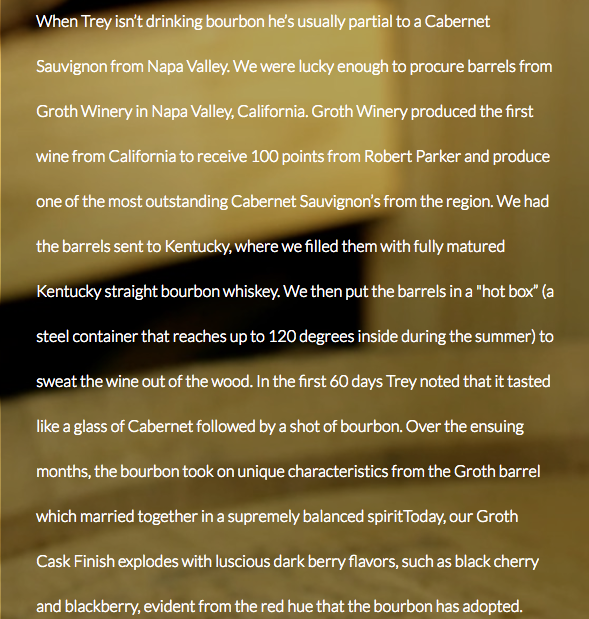 They're sweating barrels, but with bourbon still in them!
Now those are some serious claims from the producer about the flavor. Does it live up to the hype? Well … pretty much, actually.
Nose: Surprisingly light; very little of either the bourbon or the wine.
Palate: There's no question that this is a marriage of a red wine and a bourbon. It's almost bubbly on the palate due to all the tannins. It starts with the fruit and earth notes of the wine then gently transitions into distinctly bourbon territory – toasted wood, vanilla and strong grain notes.
Finish: The wine notes flashed out quickly but the bourbon notes linger pleasantly on the finish. I do find myself reaching for another sip more quickly to get the fruit and earth notes back to give it more complexity.
Verdict: Usually promotional tasting notes are … liberal with their description. This one I actually agree with (except for 'explodes' – this is more in the middle-intensity category). It's very enjoyable and for wine drinkers looking to explore bourbon I highly recommend it. For a steadfast bourbon drinker I'm not sure it brings enough to justify the price, but it's definitely worth trying at least once while it lasts.
---
* I'm okay with both sourcing and NAS as long there's transparency. But "Very old"? I know it's their thing, but I think it's just a bit condescending. Just put the number of years on there and let us judge how old that makes it!