A Guided Class constructing the most popular Kentucky Bourbon Cocktails. And a few extras.
The 4 most popular Kentucky Cocktails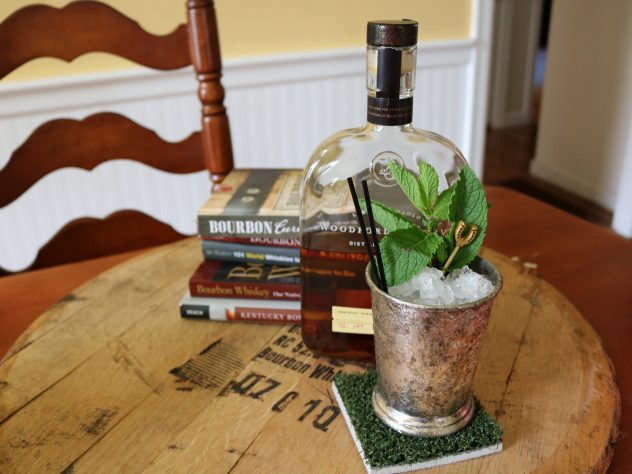 Old Fashioned (bittered sling style) – The original cocktail! No muddled fruit here, we're going to make this classic 1800s style with just 3 (maybe 4) ingredients.
Whiskey Sour – A true sour uses fresh citrus juice and egg white and has a light and foamy texture. It takes two shakes to make properly. (You can skip the egg white or substitute with pasteurized egg whites from a carton or the liquid from a can of chickpeas.)
Mint Julep (the most commonly improperly prepared drink) – Once upon a time, this was the breakfast of choice of much of Virginia, Kentucky and the surrounding states. But mint is delicate and has to be respected to make this drink properly (and properly delicious). [If mint is difficult to obtain, we can substitute with an alternate cocktail.]
Manhattan – Popularized by Frank Sinatra, a correctly made Manhattan has no cherry juice and utilizes a long, slow stirring technique to integrate the vermouth with the other ingredients. Properly made, this is long, slow sipping cocktail with a rich and silky mouthfeel and balanced flavors.
---
Preparing for your event:
Purchase bourbons make sure you have at least one bottle of bourbon & one bottle of rye whiskey. Technically this can be done with one good bourbon but we'll talk a bit about the different flavor profiles.
Purchase other ingredients outlined below.
Collect your glassware & bar tools before the event. We have a list of common alternatives so you shouldn't have to buy a lot here.
Kitchen alternatives to common bar tools:
Cocktail shaker: Mason jar, coffee travel mug with a good seal or protein shaker.
Muddler: Wooden spoon.
Jigger: Set of teaspoons.
Strainer alternatives: large metal spoon, metal coffee filter for a fine mesh strainer of any type.
---
If you are just starting your home bar, these will be some of your best bets: